simple complexity
Complex and yet simple? With the customX software platform, even complex variant products can be mapped in a structured and simplified way - we call that: maximum digitalisation!
Maximum digitalisation with customX
But what exactly does that mean? Our mission is to make complex products configurable and to simplify the value-added processes behind them.
This requires solution-oriented ways of thinking and complex know-how so that we can prepare our customers for future-oriented ways of working on an individual basis.
In order to achieve this goal, all knowledge about the product is digitised in the rulebook. After a short basic training session, this can be done by every team member.
Regardless of whether it's parts lists, work plans or scaled production drawings - all documents are created fully automatically according to the zero-error strategy.
Digitise product knowledge
An unstructured exchange of information between the individual departments and insufficiently defined work processes are often the main reasons why companies lack efficiency in their day-to-day business. With customX, product knowledge for industry-specific variants is digitalised and work processes are automated.
With our team and software-based solutions, we help optimise your workflows and create clear interfaces between departments. Your product is described systematically, logically and CAD-independently without sacrificing variant diversity.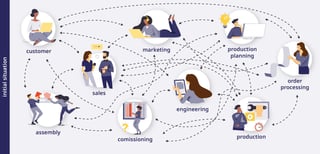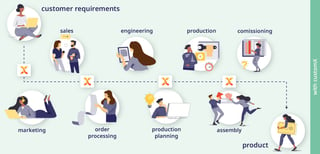 From marketing to engineering to the commissioning of the finished product, all departments benefit from customX. The departments have equal access to the product knowledge and thus experience maximum transparency.
The central application besides the rulebook is the web interface of the configuration: The installation of e.g. CAD software on all devices is no longer necessary. By bundling all systems, files are automatically generated for all departments without having to actively operate them. In addition, engineering processes are digitalised so that company-wide standards apply.
In this way, you secure all knowledge about your product digitally and centrally, instead of in the heads of your employees and in other such places.
For us, that is maximum digitalisation.
Why customX? Reasons for a...
What is your added value?
With customX, individual variants are just as easy and inexpensive as standard products. This is mass customisation like in the textbook!
customX puts your product in the centre - the entire structure is based on your product structure. customX opens up to communicate with other systems such as ERP or CAD and is not limited to any specific system.
A product-centric approach within the company enables a customer-oriented process externally.
What our customers have to say

With customX as a main block of our digitization strategy, both external and internal parties benefit from our accumulated, digitized product knowledge. Architects can configure their own variants at any time and download the BIM data directly, and customX creates all the important documents for our internal processes
Alexander Dück
Manager Parametric Product Configuration, JET Part of VELUX Commercial

I'm particularly impressed that you can build such powerful software with just a few parameters.
Marcel Cacek
Design Manager, FGS GmbH

customX is our knowledge database in which the complete product know-how is recorded. The easy retrieval of data makes maintenance and expansion of the system very simple.
Stephan Naetscher
Industrial Engineer - Operational Excellence, Trench Germany GmbH

Construction times for boxes configured with customX have decreased by more than 80 %.
Alois Mathis
CEO, cargopack tägi AG
Construction times for boxes configured with customX have decreased by more than 80 %.
David Dostmann
IT Manager, WätaS Wärmetauscher Sachsen GmbH

With customX we use a professional system which allows fast, complete and error-free configuration of variant.
Heiko Germershausen
Techniscal sales, Bals Elektrotechnik GmbH & Co. KG

An experienced designer does not need to think long about what can be manufactured and how. But when such an employee leaves the company, the knowledge is lost. Thanks to customX, we can keep this knowledge in the company now, and new employees can quickly be brought up to date with the product range.
Benjamin Bihr
Technical Manager, Beer Grill AG
We produce about 50,000 drawings a year - without customX, this amount would be unthinkable.
Alexander Albig
Senior Manager, SACAC AG

In addition to SAP, customX has become a strategic element for us.
Heinrich Kriesi
Product Manager Systems, Meier Tobler AG
Over the last 10 years our software has been continuously developed. Today, even some of our suppliers are involved. customX has become an integral part of our daily business.
Gilbert Lux
CEO, unitec Energietechnik GmbH

We felt we were in good hands at all times. We expect a significant increase in the efficiency and speed of the constructive processes with the new configurator.
Benjamin Ganser
Plant Manager, Günther Zierath GmbH
With customX we have software that helps us to configure our products quickly, clearly and customer-specifically.
Schroeder Valves GmbH & Co. KG

The cooperation was excellent.
Franz Meyer
Junior Manager, Peter Meyer @ Co. AG